Arsenal, Bayern Munich, English Premier League, EPL, Europa League, European Championships, Fc Barcelona, FC Porto, football transfer rumours, Galatasaray, General Football, Inter Milan, Internationals, Italian Serie A, Juventus, Malaga, Manchester City, Manchester United, PSG, Real Madrid, Uefa Champions league
Add comments
"I didn't see the pig's head, if I had, I'd have taken a bite!" Luis Figo on some of the objects thrown at him by Barca fans at Camp Nou during El Classicos in the colours of Real Madrid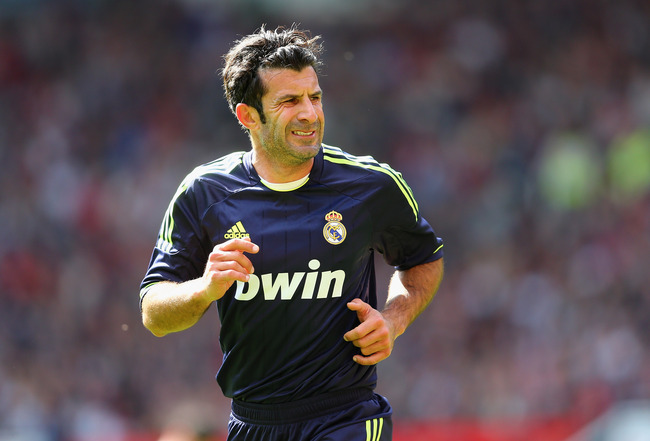 Hell hath no fury as fans of your former club scorned. Fans could hardly stomach it when their maverick and treasured signings decide to switch jerseys and play for another team. When star players decide to move on with their careers to another club, sad fans cry out their eyeballs and bawl in the hope of the player reconsidering. The angry ones hurl insults and expletives, set fire to the want-away player's jersey and effigies. It's sad enough seeing your favourite players play for another team, it's even worse when the transfer is being sought to a domestic rival. Things could get really acrimonious and almost out of hand.
In this case, fans threaten all sorts of horrible things. There have been threats to life, damage to property and unprintable horrors perpetrated by fans to players turning in transfer requests to domestic or continental rivals. Why would a player hand in a transfer request despite being treated like a god? Why would a player force an acrimonious exit when the club and fans weren't through with him? Why do players turn in transfer requests and force an exit when it's not accepted by the board?
There's always the case of wanting more money. Footballers live a glamourous life, they can never have enough money, so the moment they feel they needed more and their rivals can pay, they unabashedly turn in a transfer request. For majority of superstar players, however, it's higher ambitions. After dominating the scene domestically, players want to take their craft to the continent and there's no player born that can resist the allure of the UEFA Champions League. They must heed the higher calling of the big-eared trophy. That's what Luis Figo heeded when he left FC Barcelona for Real Madrid in 2000-01 and what followed was pure chaos and hatred from Barca fans. Things got so heated during one of their matches and arguably the world's biggest rivalry, the El Clasico, that a pig's head was thrown at Figo while attempting to take a corner kick, prompting him to make that statement featured on top of the piece.
Transfers are valuable and financially indispensable to the growth of the game. They help the clubs maintain financial stability and equip themselves for the days ahead. How come what's meant to be for the good of the game became complicated, messy and loathsome? How come clubs are always reluctant to let big players go and why do players act the victim when the fans get mad at them for their (players) antics leading an acrimoniously forced exit?
CLUBS WANT A CHANCE TO RECOUP THEIR INVESTMENTS
The number one and biggest of all reasons clubs lock players up in iron-clad contracts with incredulous release clauses is to recoup their investments. Acquiring a marque player in the first place involves a huge amount of work and investment. In most cases, it takes the club sacrificing and selling off other players to make it possible. When the prized player is landed, the club's financial advisors project the financial gains of the signing and what they get to lose should another club come asking after him in the middle of his contract, they work out a financial compensation and spell it out explicitly in the player's release clause. Factoring in appreciation in the player's growth, the fees tend to grow astronomically too. To get back what's expended on the player, a price tag usually in the region of what brought them in gets placed on their heads to make sure the club didn't acquire them in vain, went into their development must come back to the club's coffers. Recouping their investments accounts for the greatest reason clubs slam the cuffs on their prized players.
TO DISCOURAGE AND FEND OFF DOMESTIC AND CONTINENTAL COMPETITION
Would Wesley Sneijder go for a paltry sum of £12.75m Galatasaray of Turkey are asking for his signature if domestic rivals, Fenerbaҫhe inquired for him? Not likely. They would double it in the least. No one likes selling to domestic or continental rivals, and if such transfers must materialize, they must occur at a cut-throat price. That's why Real Madrid put Ronaldo in an unbelievable €1bn release clause; Leo Messi's signature is entombed in a €250m Barca vault. These outlandsish amounts are to keep domestic and continental rivals at bay. Ronaldo's shackled by this weight and may be unable to go back to Manchester United, a continental rival, unless they break him free. No one gives away their most potent weapon for cheap, such transfer must come at an exorbitant and cut-throat price. Borussia Dortmund won't like to defend against the agile and deadly Robert Lewandowski next season, so they're bent on frustrating his transfer request for a move to Bayern Munich. Arsenal FC should have known Robin Van Persie was worth the 2012/2013 Premier League title before they shipped him off for a mere £24m to Old Trafford. Looking back, they apparently miscalculated and gave away the title to their biggest rivals.
TO ENSURE THEIR EVENTUAL SALE CAN LAND AN ADEQUATE REPLACEMENT
Players sometimes want to move for sentimental reasons despite having a successful time in a club and throw in a transfer request. The least the club would want to do is make sure the player's sale can make a replacement of the same talent and magnitude. When selling an A-lister, clubs want to make sure there's enough money to recruit another A-lister, anything short of that is a loss. When you sell a big player, you become the target of exploitation from the club you want to buy a replacement and for this reason escape clauses can't be small. Who knows what wages the new arrival would be demanding too? Putting star signings in iron-clad release clauses may be the only way to ensure their sale realizes enough funds for the club. It's the only way to remain competitive, losses can't be condoned. If Liverpool were to trade Luis Suarez today, he won't go for less than the £24m that brought him to Anfield despite his trouble-ridden time with them. It only seems natural that way. It's either the player repays the club with titles or he displays enough promise to attract a decent amount for his signature. If there must be losses, then they must be minimal and not of monumental proportions like that of Chelsea's £30m flop, Andrei Shevchenko or Manchester United's Dimitar Berbatov whom netted a mere £10m after a 3-year stay which cost the Red Devils a whopping £30m.
Football clubs aren't charitable organizations; players ought to understand they're involved in organized wars and take part in battles on the green for titles and bragging rights. Transfer requests will come and taking advantage of them is what most clubs are obligated to do. It's all business and nothing personal, the ways and means every club manage their competitive advantage is up to them and not the player interested in leaving. The war of transfer request is like the game of thrones, it's either you win or you go back home with your inadequate chequebook in your briefcase.
That's my take, what do you think?
My name is Olumide Ogungbemi (@rednym) and I rep Manchester United. (5242)