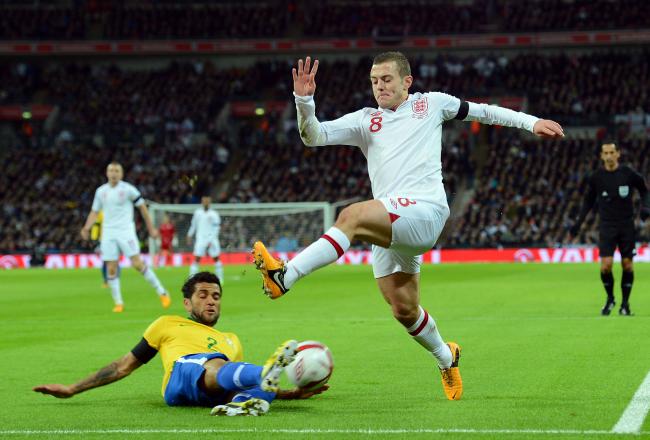 Let's be frank, the English national team is in a dire place at the moment. Another dreadful, dismal showing at a major tournament coupled with the debate and drama of Ferdinand-gate. With worries off the pitch matching those on it, Roy Hodgson needs to do something to get the fans onside. The lack of enthusiasm from some quarters about England's glamour tie against the mighty Brazil speaks volumes. Having spoken to several fans, it's become disturbingly obvious that the excitement seems to be mostly directed at the yellow-clad visitors rather than their home nation. The years of dissatisfaction seem to have finally taken their toll. That once misguided optimism has inevitably been replaced with grumbling apathy. 150 years of the FA, 149 years of hurt. England fans need somebody new to cheer. A new hero. A new Owen, Beckham or Gascoigne. The squad aiming to conquer the silky South American stars has already been declared but, on current evidence, who deserves a chance to shine, their fifteen minutes of fame, perhaps? Here are just a few of the prominent candidates. Come on Roy, give them a chance.
Fraser Forster
Celtic's superstar shot-stopper Fraser Forster painted himself onto the football landscape with two terrific performances against Xavi, Iniesta, Messi and co. in the Europe's Premier Cup competition this season, helping the SPL champions to a much-deserved place in the Champions League Knockout Phase for the first time since 2007/08. But the knowledgeable enthusiasts amongst you will know that the former Magpie has been knocking ferociously on the door of the big-time for a good while now. And, at long last, the door has swung open. His fantastic reflexes and commanding presence set him apart from his net guarding colleagues in the SPL, his imposing performances for Celtic aiding their, albeit anticipated, healthy lead atop of the League. Another trophy surely, certainly in the proverbial bag for Forster and his Bhoys. And with Joe Hart's once invincible performances seemingly becoming less frequent, Forster can provide some much needed competition that England have lately lacked on the goalkeeping front. If Joe Hart lets his grip slip on that coveted number 1 jersey, Forster will be there to pounce. Add the dependable John Ruddy and teenage dream Jack Butland to an ever-increasing list and it's clear that, for once, England are in safe hands.
Leighton Baines
Is Everton's fabulous flyer the unluckiest man on the international scene? His performances on the blue side of Stanley Park have been, on occasion, world class in the last twelve months. His stock has risen rapidly, many believing him to be the League's finest full-back. Linked with a big-money move to Man United last summer, Baines has been consistently brilliant this season with his defending and attacking ability attracting widespread acclaim in equal measure. Everton are currently on the tails of the top 4 and the indie-loving leftie has been a colossal reason for that. His delivery from out wide seemingly never fails to impress and, with their traditional target man approach, England can only benefit from Baines' brilliance. His superlative partnership with Steven Pienaar on the Everton wing is rated by many as the nation's greatest. The League's most prolific chance creator, Baines has also contributed 5 goals, including that free-kick at St James' Park. Quite simply, the epitome of a modern full-back. So why has he only featured 13 times for his country to date? Oh yeah, Ashley Cole. But with Baines' growing game by game, maybe England's most recent centurion will have to make do with 100 appearances. And besides, he's got to be running out of drawer space for all those caps.
Theo Walcott
OK, we all know that Theo is hardly a newcomer on the international scene, having been controversially chosen for England's 2006 World Cup Squad, aged just 16. Since Sven's baffling decision, Theo has never really taken flight in an England shirt. Mostly due to the fact that throughout his fledgling career, the former Southampton prodigy has usually been weighed down by increasing pressure on his young shoulders. That famous Zagreb treble of '08 was finally followed by his longed-for fourth international strike, a Sweden screamer at Euro 2012. His career has been blighted by false dawns and disappointment, manifesting themselves in his omission from England's South African nightmare, a decision Fabio Capello has openly regretted since. But maybe Theo's time has come. At last. After many seasons flattering to deceive, the Arsenal hero has finally made the move from wistful wideman to super striker. And with great effect. Walcott's wonder strike against Liverpool recently took his tally to 18, beating his all-time high of 13 with many more months to go. An incredible hat-trick versus Newcastle has been a highlight. And with England lacking a player in his mould, a jet-heeled clinical finisher, Walcott's international career could yet be reinvigorated with a new sense of confidence and, vitally, a new role.
Will Hughes
A small slight frame, expert close control and superb vision and intelligence that defies his adolescent age. No, not a young Lionel Messi. No one will match the talent of Maradona's vanquisher. But maybe England have found their own equivalent. Aged just 17, Derby County's boy wonder Will Hughes has already been linked to Liverpool, United, City and, most incredibly, the Catalan Kings themselves, the mighty Barcelona. And for anyone who has witnessed the tremendous teenager in full flight, it's easy to see why he's so highly rated and so enviously coveted. His skill and style is extremely reminiscent of the four-time Ballon D'Or victor. A rapid, incisive dribbler, Hughes' often appears to have bonded the ball to his boots with an exceptionally powerful Pritt Stick, gliding beyond dazzled defenders will supreme balance and dexterity. Hughes also possesses an end product, something that traditionally arrives belatedly for young forwards, marking him out as one of the most extraordinary talents England have ever produced. Now, here's the problem. Does Roy Hodgson thrust him into the limelight along with his Championship counterpart Wilfried Zaha, who was swiftly snapped up by Sir Alex Ferguson following his international bow? Maybe it's best for Hughes to remain at Pride Park for the time being. For the sake of his career, he needs first team football. But whether Hodgson decides to give him his big breakthrough sooner rather than later, England have an astonishing talent on their hands. If nurtured carefully, he could be as good as anyone in world football.
Adam Le Fondre
England have had their fair share of one-cap "wonders" who have tried yet failed dismally to prove themselves on the international front. Michael Ricketts, Francis Jeffers and, most recently, Jay Bothroyd come to mind. Ricketts has even become a figure of ridicule for his solitary cap, having developed into one of the most famed flops of the Premier League era. He has since seemingly disappeared of the face of the footballing earth, never to be seen again. Jeffers was last spotted at Malta while Bothroyd's career has nosedived since his 2010 call-up. Sometimes a misguided cap can have a negative effect on both player and country. But maybe Adam Le Fondre is the man to turn the tradition. He arrived at Reading in 2012, having previously scored for fun in the lower leagues. He has never looked back. His goals guided Reading to promotion and, despite doubts about his pedigree, Le Fondre has taken the top tier by storm with 10 strikes in 22 appearances, mostly as a sub, turning heads aplenty. ALF could be what England require, a clinical out and out striker. His last-gasp double salvo against the European Champions recently was stunning. Two lethal, unstoppable finishes. Could he be England's supersub? It's certainly worth a shot. Plus, with England's continued penalty profligacy, Le Fondre could provide an emphatic answer. He is truly dead-eyed from the spot, a lethal predator. If that's not a reason to give him a chance, what is?
OK, the old guard are not finished yet. Terry, Lampard and Gerrard have plenty left to give and Rooney is only just beginning to write his own chapter in England's history books. But hasn't Hodgson stressed the importance of the new alumni? The pupils need a tutor and, in Roy, they have one of the best in the business. There will be plenty of pointless friendlies to come. The result should not be of such vital importance. It should provide an opportunity for the youngsters and fringe players to impress on the biggest stage of all, Wembley Stadium. We need to build for the future, brick by brick until we have constructed a unit so strong, so united that the rest of the World finally begins to fear. Roy's Boys could achieve at last. Just give them the stage and watch them perform.
Written By Daniel Owen (332)