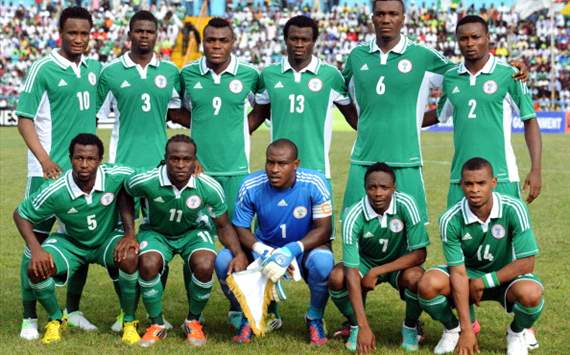 The AFCON will take off yet again on the 19th of January in South Africa and we will be treated to another round of scintilatting football display by our favourite stars from all around the world. Dribbles, tackles, sweat, grit, tactics, goals, saves, cheers, jeers, tears and celebration will grace our screens for the next few weeks which football followers on the continent are poised to enjoy.
I've heard various arguments for and against the Super Eagles of Nigeria's chances of winning the competition. While some were optimistic, others were just dripping with plain pessimism. While some were patroitic, others just reeked of repugnant drivel. While some were enlightening and educating, others just lacked class and common sense.
While coach Stephen Okechukwu Keshi has been working his socks off and trying to make the most out of his sometimes cynical and maladroit players, many of us can form opinions about what transpire behind the scenes which form the basis of coaches' decisions and formations. One thing is sure about football and all tourneys; there will be surprises and a winner must emerge. Regardless of whom coach Keshi picks, the Super Eagles of Nigeria have the same chance as every other team involved in the competition, the key to winning it, however, lies in discipline. Both personal and tactical discipline.
We all know talent plays a huge role in every sphere of human endearvour. Making good use of one's talent is what makes each person distinct and unique. Talent is the difference between the superstar and the mediocre player. In every sport, talent makes some particular individuals stand head and shoulders above the others. There are more than enough examples that come to the contemporary mind from football's mercurial Leo Messi to Swimming's and the most decorated Olympian, Michael Phelps to basketball's Le Bron "Long Live the King" James to F1's Gearshift Meister, Sebastian Vettel. These gentlemen are living proof of talent's role in every sport and life's endearvour. Its the final ingridient in the mix, the one factor that's responsible for the decision an athelete takes in that win-or-lose situation. Talent is a distinctive difference maker. That said, talent is hardly enough. If it were,"the Selecao" of Brazil and not "the Azzurri" of Italy should have won the 1982 World Cup in Spain.
the 'enfante terribles' of sports were/are also talented. Iron Mike tyson, boxing's youngest heavyweight champion was a handful in his day but was wrecked by drugs, alcohol-fueled parties and prostitutes because he lacked personal discipline. Paul "Gazza" Gascoigne, El Hadji "The spit-cobra" Diouf, and even Mario "Why-Always-Me" Balotelli, cannot fulfill potential because they lack discipline. These players exhibit (exhibited in the case of Gascoigne) a lot of greatness but like the biblical Moses, they'll see and touch the gates of greatness but will never enter. Why? Because indiscipline makes all the creative genius in them erratic. Indisciplined players are the most erratic and selfish bunch. They care less what happens to the team and find it difficult to take their game to the next level because they think they owe nobody any explanations. It's their way or the highway, they don't respect anyone's feelings. They're always pressing the self-destruct button in their careers.
The Super Eagles have always been plagued by both personal and tactical discipline over the years. There have always been stories of in-fighting and decamping of Eagles players due to disciplinary problems in our team. And very fresh in our memory is the social media/twitter rant of former fans' favourite, Osaze Odemwinge. One rant too many I would say, as he's been famous lately for taking National team coaches and officials of the NFF to the press and the cleaners. Destroying his chance of playing for the Eagles, maybe even till the end of his career wiTh the latest rant. Roy Keane had 'choice' words for Manchester United and Sir Alex Ferguson at very end of his United career but we can't remember him starting a free-for-all because he commanded the attention of the press. David Beckham held his peace while leaving United for Madrid too. Player's response for getting dumped in other countries would be hardwork and determination to make the next selection not calling their national team coaches and FA officials names in the electronic and print media.
Our football history is replete with the Eagles losing games or qualification due to lapse of concentration in crucial games. Godwin Odiye's own goal in 1977 cost the Eagles qualification to the World Cup in 1978. Loss of concentration/ lack of tactical discipline caused the Eagles to draw against Angola in Kano in 2005, costing us the ticket to Germany 2006, when all we needed was a narrow margin win. And can we forget drawing the game with Guinea 2-2 in Abuja with mere seconds to finish the game! Our opponents came from losing positions in all occasions to secure their choice result; a draw! Barcelona is a great team not just because they parade fantastic players but because of tactical discipline. They don't lose possession for more than 7 seconds at a stretch anywhere on the pitch. That's tactical discipline! When teams lead Manchester United of recent history, they do so with their hearts in their mouths. Why? Because United would chase the game to the very end! An Italy in 1982 lead by a hardworking Dino Zoff in goal and a returnee to football, Paolo Rossi, won the tournament because they had a mean defence and wouldn't concede more than twice in any game against any opposition. And Zambia against all odds faced and defeated Ghana and Cote D'ivore in AFCON 2012 because they demonstrated personal and tactical discipline.
If Keshi's men can keep it tight at the back, adhere to instructions and play together with fire, sweat and passion, this tourney is in no way beyond their reach. No team will be too big to beat. Keshi is not a stranger to African football, he has coached togo and Mali before taking up the Eagles assignment and to an extent would be familiar with many African team's style of play, what he needs now are resolute and determined players who would give life to his dreams of being the first player and coach to win the AFCON title in the modern era. A disciplined team can do this. A disciplined Super Eagles can do this. Let's go there!
This piece is dedicated to the memory of a man who reported sports with so much candour and whom many of today's sports fans and writers grew up reading from the pages of newspapers and watching on t.v. A reporter's reporter and a journalist's journalist, Deacon Ayo Ositelu. Rest in peace Deacon.
Written by Olumide Ogungbemi (458)