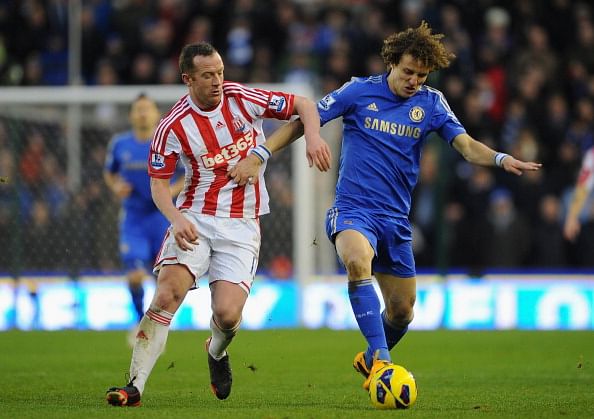 For the first time in top flight football Stoke lost at the Britannia by more than 2 goals against a relentless Chelsea who had help from Stoke City's popular figure, John Walters, who had a horrible game scoring 2 own goals and also helping Chelsea keep a clean sheet by missing a penalty later on.
So here are a few key things I learnt from the game.
1. Frank Lampard Should be offer a new deal
Frank Lampard became Chelsea's 2nd highest goal scorer ever bagging a penalty from the spot against Stoke to take his tally for the club to 194. The legendary midfielder has been denied a new contract and it is likely that he will leave on a free in the summer and fans are not happy about the board's decision in denying him a new contract. I feel the board should renew his contract as Frank is one of the players who care deeply for the club. We can buy a replacement for him, but you cannot replace his passion.
2. David Luiz is a defender not a midfielder
The Brazilian was back to defence and was excellent in his original position. David Luiz on his day is one of the best defenders in the world, but his free mind and lack of concentration sometimes tends to creep into his performances. No matter how many times he's played in midfield I feel he would still be better off as a defender.
3. Juan Mata and Eden Hazard
Mata once again bossed the attack, winning a penalty and providing an assist, the magical Spanish maestro has been in good form this season with 7 goals and 8 assists in the league, you could say he's the piece that makes Chelsea tick he's drawn comparisons to the Legend, Zola and I would love it if he could play every match for us.
As For Eden Hazard, he also had a spectacular game, making a goal and grabbing one himself which was an incredible stunner off his weaker foot. The 21 year old looks to have so much potential of a bright future, he currently has 5 goals and 6 assist in the league, not bad for a 21 year old, is it?
4. John Terry's comeback
Our captain is back, and every fan is happy, John Terry returned to play 10 minutes of football, although he gave away a penalty, which was his main contribution. But we all know JT brings a lot to the side on the pitch in terms of leadership and experience and we would totally need him as the season is long, although the partnership of Ivanovic and Cahill has been outstanding.
5. Rafa Effect
Having seen the caption 'Rafa Effect' you probably thought I would praise him and all that? On the contrary, Rafa Benitez is still being booed and isn't wanted at the bridge. But that's not what I am about, it's his inconsistency in tactics and results that worries me. Losing to QPR at home 1-0 and then winning Southampton 5-1 away? Losing to Swansea at home 2-0 then Beating Stoke 4-0 away? One doesn't know what to expect again from this side, I'm hoping we get our head straight ad start winning everywhere and show we are the good team we believe we are on every ground.
Having said all this I would like to just give a special mention to John Walters, scorer of our 2 goals and confirmer of our clean sheet, scoring 2 own goals and 'skying' that penalty. He was Stoke's worst player on the day but a key figure for Chelsea. The season isn't over yet and we should just keep winning who knows where that would take us? Keep The Blue Flag Flying High! CFC.
Written By Samuel Onewo (304)