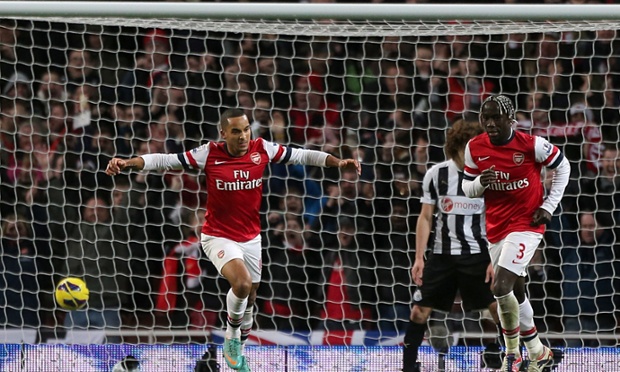 It could have ended 4-4 but finished 7-3. The Gunners' clash against Newcastle at the emirates had the markings of the stunning game of St. James' Park some seasons ago albeit it didn't shape up the same way. This time around, Newcastle didn't allow Arsenal to cruise to a 4 goal lead, they replied everytime Arsenal asked their defence a question. Walcott scored, Demba Ba replied assisted by Wiilshere's deflection, Chamberlain scored and Simpson responded with a tap in, Podolski nodded home from close range and Demba Ba tapped in also from the same range. Then, it was all Arsenal, quick fire brace from substitute Giroud and a fantastic solo goal by stand out performer Walcott for his hattrick ensured Arsenal not only banished the ghost of 2 seasons ago but also in style.
Plenty of things to learn from the game. Walcott further enhanced his claim for a striking berth. Since the game against Reading, Wenger had opted to play the English forward in a striking role and he hasn't disappointed one bit. 4 goals in three games is more than a good testimony. Against Newcastle, he bagged a fantastic hattrick, in bagging the goals, he showed positioning, brilliance, flair, composure and perseverance. His first goal was a Henrisque goal. Bending in from the left, Krul stood no chance. For the second, he showed positioning (been at the right place at the right time) and composure, with the Magpies surrounding their goal area, another striker could have shot against the defenders, rather, he took his time and fired into the top corner. For his hattrick, he showed sublime foot works and perseverance. Where Bale or Young would have chosen the easier path, fallen flat on their faces to get a penalty, he stood his ground, fell and got up hurriedly to chip the ball over the head of hapless Krul. If there is anything to say to the English forward, it is welldone good and faithful servant, please don't go.
Do we really need another striker? With that performance, I doubt it. Walcott bagging an hatrick and Giroud coming off the bench to bag a unique brace. The bar stopped his hattrick. I know Chamakh is leaving but if a new striker is brought in, it could jeopardize Walcott's continued foray through the center and extinguish any glimmer of hope of a new Arsenal deal. If Wenger is to bring in a new attacking player, a winger would do. He would replace Walcott on the wings. The only way a striker would be needed is in the event of Walcott's January exit. Something Wenger has repeatedly ruled out.
Arsenal's defence need some tightening. In the absence of Mertesacker, the defence was a bit jittery and the full backs (sagna andGibbs) were uncharacteristically poor. Two of Newcasle's goals game via crosses from the right (Sagna's position) and were tapped in at the far side (Gibbs' position). Sagna allowed himself to be easily nutmegged by Obertan while Gibbs went to defend like a center back without been aware of what was happening at the far end of the poll. Newcastle's 2nd and 3rd goal were reminiscent of Schalke's 2nd goal at Veltins –Arena. Vermaelen could be forgiven because he was a center-back just filling in at left back but certainly not excusable for Gibbs who is a natural left-back. Those lapses at the back should be watched, a repeat mustn't be allowed.
Arteta also failed in his defensive midfield role. He was more attack-minded than defensive. He didn't put enough shifts in as a defensive midfielder to help out the defence. Well, he shouldn't be overtly blamed. He isn't a natural defensive midfielder. A move for a more natural defensive midfielder should be made. A player in the mould of Mbiwa would do the job perfectly. Arsenal conceded three goals owing to the porous defensive midfield.
Seems Wenger has learnt his lessons. These days, he seemed more concerned about safety first (three points) than more goals. He has done it three games on the throttle, bringing in Coquelin to see off the game. Against West Brom, he brought him on when the game stood at 2-0 and Arsenal ended up not conceding. Against Wigan, he brought him on at 1-0 and Arsenal kept a clean sheet. Against Newcastle, he brought him on at 4-3 and the Gunners didn't concede again. It seems Coquelin is Wenger's way of seeing off games. Like I always say, 3 points with a goal difference is better than so many goals that ends in a draw.
What is happening to Gervinho? Seems Wenger has had enough of him. Since his miss of the season against Bradford, Wenger has refused to play him. He hasn't made it off the bench in Arsenal last 4 games. It is very unlikely he would play before he jets off to South Africa for the Nations Cup. His chance of reclaiming his first team berth on his return is very dicey. With the team currently on a winning streak, it would take injuries and a rich vein of form from him to gatecrash the party. You don't change a winning team.
At Newcastle's end, one player stood out and he is Demba Ba, Arsenal's rumoured target. He had an audition at the Emirates and didn't fail one bit at it. He showed sheer strength, occasional foot works and a keen eye for goal. His 2nd of the game was a top draw finish. Getting ahead of Gibbs to tap in. If Wenger wants to bring in a new striker, Ba wouldn't be a bad idea. Decent fee, reasonable wages and top class performance.
Arsenal's form on the road has been good but the home form leaves a lot to be desired. The game was Arsenal's best home game of the season. The players showed determination, hunger and huge work ethic. The Gunners' have built a winning momentum in recent weeks, winning four league matches on the throttle. I sincerely hope the momentum is maintained in January.
Written By Kolade Omotosho (214)